When it comes to choosing fonts for your print books, it can take a lot of time and effort to not only find finds that are free for commercial use, but that look clean when printed out.
Here are the script fonts we use in many of our print books. These are all 100% free for commercial-use.
For page headers, splash pages and areas of our print books that we want to highlight, we tend to use a combination of bold, uppercase fonts and the following script fonts:
Autery

You really can't go wrong with this script font by MasAnis. Download it here.
---
Arabella
This is one of our go-to fonts for sub-headlines on our journal pages. Download it here.
---
Ballet Harmony
Great commercial-free font for when you want to make your page just a little prettier. 🙂

It's a font often featured in our KDP books and printables.
---
Sweat Pants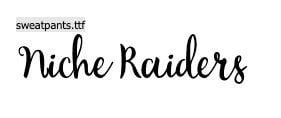 Cute italic font, useful for sub-headlines, logos or on your journal splash pages (front cover).
---
Clarissa
One of our most used fonts, Clarissa is a beautiful script font that comes with commercial-use rights.
---
Mattilda
Want your text to pop? Use the bold Mattilda font in your headlines.
---
Fox Lite Script

Foxlite Script is a cool font that is best used for headlines or wherever your text will be larger.
---
Sallita Cursive
Sallita is such a pretty font and works great for cover pages or as a decorative-style headlines.
---
Handletter Ink
Gorgeous font, best used in larger titles or headlines.
---
Viksi Ink
Viksi is a beautiful script font that we often use sparingly in sub-headlines.
---